"Saved by the 90s" Takes Over NYC's Webster Hall Every Friday
Itching to party like it's 1999? New York City's biggest 90s party, Saved By The 90s, takes over Webster Hall's Marlin Room every Friday evening at 10 pm. The party features live 90s music from The Bayside Tigers starting at midnight and a dance party with DJ Suga Ray all night long. For more information, please visit: www.savedbythe90s.com
Armed with sweatbands, windbreakers, scrunchies, crop tops, snapbacks and electric-colored garb galore, The Bayside Tigers boast a repertoire of over 150 jams from the 90s, with more being added into the mix every week. Over the last few years, Saved By The 90s has welcomed guest appearances by 90s icons such as Dustin Diamond (Screech), Aaron Carter, Coolio, Sophie B. Hawkins, Naughty By Nature, Chris Barron (Spin Doctors), Mark McGrath, Lisa Loeb, Dennis Haskins (Mr. Belding) and more!
Guests (19+) can purchase tickets for Saved By The 90s in advance here: http://bit.ly/ SavedBy90sTix or can RSVP for FREE entry and 2 for 1 well drinks before midnight with RSVP (21+) here: http://bit.ly/ SavedBy90sRSVP.
When it comes to having a wild night at Saved By The 90s, they can accommodate it all and have created custom packages for every party animal. For the ultimate Saved By The 90s experience, guests can purchase the Totally Rad 90s Party Package ($60/person), which features complimentary admission for all party members, 'skip the line' entry upon arrival, a special shout out from the band, inclusive well-drinks + domestic beers from 10pm – 3am and a complimentary slice of pizza, available until 4:00 am, which everyone will need after this epic rage.
If you are getting hitched and looking for that special evening to celebrate the last few days of being single, brides-to-be can get in on the action with the Bachelorette Party Package (inquire about price here), which features complimentary admission, 'skip the line' entry, a special shout out for the bachelorette, private VIP table access with a personal host and waitress, choice of a naughty shot or complimentary champagne, a bottle of premium liquor (1 bottle for every 4 people), and a Webster Hall tote bag filled with bride-themed goodies (shot glass necklace, light-up "diamond" ring + more!).
Saved By The 90s is the place to be on a Friday night in New York City! For more information, please visit: www.savedbythe90s.com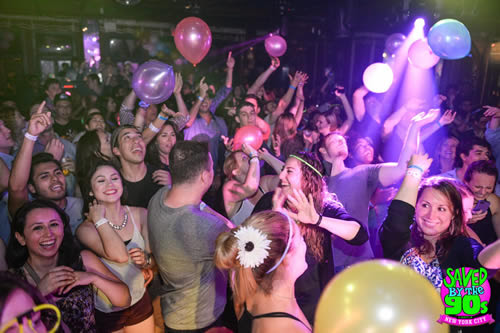 Check out more on Saved By The 90s here:
Website: www.savedbythe90s.com
Facebook: www.facebook.com/ savedbythe90s
Twitter: www.twitter.com/ savedbythe90s
Instagram: www.instagram.com/ savedbythe90s